Nearby where I live there is a small private family burial ground. It has very tall stonebuilt walls and an extraordinary door. So far as I know, it is the only door, other than that of Number Ten Downing Street, which can only be opened from the inside.
It's mostly of Victorian vintage, but the most recent interment was in early December 1918. No longer within living memory, though I do remember an elderly lady telling me that she remembered, as a young child, seeing the funeral cortege of that burial party. What she recollected was the enormous black feathers on the heads of the horses which drew the hearse up the hill to the burial place.
Local legend tells a story of that guy, but first I should explain the circumstances.
For the first few years of WW1 there was no conscription in the UK. Instead there was immense societal pressure on young men to join up and do their bit for King, Country and Kitchener. After a year or so, any young men of military age seen on the streets were verbally abused and even spat upon, mostly my women who had lost a husband or brother or father or son in the meat-grinder that was the Western front of trench warfare. They would forcefully push a white feather into the lapel buttonhole of such a man. It was a symbol of Cowardice.
According to local legend, wrongly as I'm about to relate, he was shot for Desertion and buried there because no churchyard or military cemetery would have him.
The story says that he refused to volunteer and that he was so abused by the community that he ran away to Australia to make a new life for himself where his face was not known and in a country which, though technically at war as a part of the British Empire, was peaceful.
The legend told, which I shall disprove later in this piece, says that upon arrival in Oz he was badly surprised to find that in that country they already had Conscription and that he was immediately put into khaki and given a rifle and coupla weeks training send sent to Gallipoli where he shot his toe off to get out of the military and that he was subsequently shot for Desertion.
Almost all of that legend is untrue.
Now here's the truth. I've got umpteen pages of his service record from the Australian National Archive website to back up every iota of what I say from here on.
I'm aware of the fact that he may have had children. Therefore there may be grandchildren or great-grandchildren who would prefer to imagine that their ancestor was some kind of a war hero. He was not, in my informed opinion. I am therefore deleting his personal identity as I would not wish any of them to find this story through some kind of Googlesearch.
I have full documentation from his induction into the Australian Infantry, all the way through the military record of his burial.
I now know that he was in already in Australia in 1911, so the story about him shirking voluntary service in the UK is wrong.
Here's an image of my first piece of evidence. Note the date, and note that he appears to already have served military service (though I doubt the latter). Clearly the story that he ran away to Australia after a year of the War is wrong.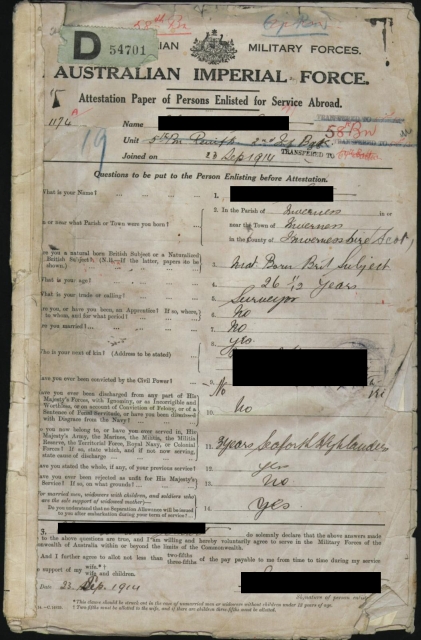 I shall continue this story in further posts.